If you've never bought a used car before, you might not understand all the risks involved. Mainly, you're going to need to watch out for quality, but that's easier said than done. You might choose a "like new" filter on the used car website you're looking through; you might be buying from a neighbor or a Facebook friend who swears they've never been in an accident; you might even find a used car on a dealer website that looks pristine. Still, you can't know the quality you're actually getting from a used car until you've checked in on the elements below.
FIRST THINGS FIRST: Get a Used Car History Report
Always look up the used car's history based on the Vehicle Identification Number (VIN). The National Insurance Crime Bureau (NICS) allows you to look up flood damage and other information, while the National Motor Vehicle Title Information System (NMVTIS), run by the Department of Justice (DOJ), tracks title, odometer, and damage data. With widespread flooding from recent hurricanes, you need to be very careful about any used car you consider.
If you are shopping at a used car dealership, you should ask the dealer for a vehicle history report as well, but these independent sites can verify the dealer's information so you can be confident in the quality of the vehicle.
You can also use the National Highway Traffic Safety Administration's (NHTSA) website to check on any recall information. If there has been a recall on the vehicle, and the seller claims the repairs have been made, you need to see documentation proving that before you buy the car. The seller may not have had the repairs made as per the recall, so keep that in mind as you consider value. You would need to include the cost for repairs in the budget for your used car.
NEXT, GET DOWN AND DIRTY: Test Drive Every Used Car, and Get an Inspection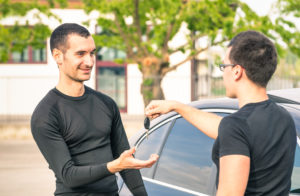 The test drive is not a perk of working with a dealer. It is a necessity, no matter whether you get your used car from a private seller, from an auction or from a dealer. All smart buyers demand a test drive that takes them through various road conditions, such as stop-and-go traffic, up and downhill and on freeways. You can Google a test driving checklist to make sure you experience all the important conditions you need to check.
You can't know without driving the car that it runs well, and you don't want to buy a used car that doesn't run well. Anyone looking to sell their car bought a car once themselves, so they should understand your unwillingness to buy without first test driving.
After your successful test drive, make sure you have a mechanic do an inspection on the car before you buy it. This is a service that will cost you a $100 or so fee, but it's better to budget the money for the inspection than to get stuck making repairs you weren't expecting. Unless you are a certified mechanic yourself, hire someone. Only someone who works with cars on a regular basis can give you a reliable report on the used car's road worth.
FINALLY, PAY ATTENTION TO THE PAPERWORK
When it comes to the paperwork, read everything. Don't skim and sign just to get the process over with. Get all the information on the warranty so you understand what is covered and what is not covered.
If you're dealing with a private seller and there's a loan on the car, plan to meet at your lender's office. It doesn't hurt to have someone you trust read through the paperwork as well.
When you're buying your used car from a dealership, ask the finance manager to explain all the fees to you. If there are any they have trouble explaining, they're probably pulling a fast one. Tell them they must remove those fees before you will sign the contract.
WHERE MATS.ORG COMES IN
MATS.org is your guide throughout the process of finding the RIGHT car. To us, a car can't be the right car unless it has been inspected, reconditioned, and certified. That's why we do all of those things to determine the quality of every car so you can be 100 percent confident in your used car from MATS.org.